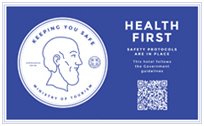 ABELOESSA METHONIAN HOSPITALITY adapts its operation taking into account the new safety measures and hygiene protocols.
Before arrival
We suggest you send us an email, so that we can send you back the check-in form to secure a fast and without stress check-in.
Upon arrival
Thank you for choosing and trusting us.
Check-out takes place at 11:00 and check-in at 15:00 so that there is enough time for room cleaning and disinfection.
Upon your arrival we recommend that you use the disinfectant liquid that is available in the reception area.
Upon arrival in your room, please consider:
Towel and linen policy
In case you need more towels and linen, please call the reception.
For the period of your stay
Please inform us regarding the days you wish your room to be cleaned. According to the Cleaning Protocols, the cleaning of your room must be requested.
Please inform us the day before, so we can schedule the thorough cleaning of your room.
Your Departure
Call the reception to ask for your bill; in this way, can have its payment and your check-out ready. Payments can be made by credit/debit card, by bank transfer or cash.
Thank you for choosing ABELOESSA METHONIAN HOSPITALITY